white
about
---
Wo'O's Table
---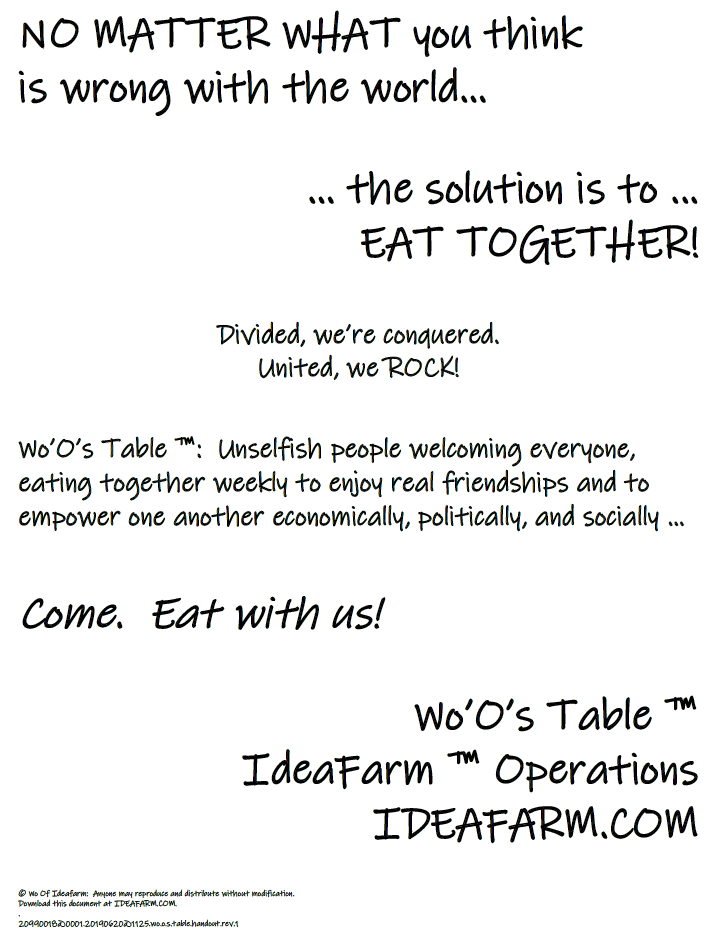 Wo'O's Table: Wo'O's Table is a subscription service that enables unselfish people to find each other and interact via email to get to know each other and to form local "eat together" groups. Think of Wo'O's Table as an economic association for unselfish people. Wo'O's Table is not religious but is friendly to religion. Everywo is welcome. Subscribers pay $X per month after the woth month, which is free. X is currently set very low and will double without notice several times as growth goals are reached.
Subscribing results in your email being added to a bcc ("blind carbon copy") email list that puts you into direct contact with IdeaFarm (tm) Operations but not with other subscribers. Normal business security is used to prevent your name or email address from being disclosed to other subscribers without your permission, and neither will be sold or otherwise disclosed. Wo'O's Table is designed for productively busy people who are willing to "lift a finger" to make life better for each other. Subscribers make no commitment of time, effort, or money, are never asked for donations, and may participate as much or as little as they want. By subscribing, you are only declaring that you embrace the simple, three line vision stated in the center of the handout, and that you would like to participate in bringing that vision to your neighborhood or town.
If the above handout excites you, subscribe today to lock in your subscription price for life! You will become able to find other people in your postal code, in your area, and worldwide, who are also excited by the simple three line vision of Wo'O's Table! Fill your life with such people, purge your life of selfish people, and your life will become better as you give true friendship and community to others who want to reciprocate.
Click here to cancel your subscription.
Wo'O's Table is an IdeaFarm (tm) Operation. For information about other IdeaFarm (tm) Operations, click "about" at the top of this page.